The expansion is in line with AGEMA Work's vision to support local hospitality, healthcare, and labour businesses in Canada.Over the years, AGEMA Work, a Canadian award-winning SaaS company, has helped to connect talented workers with reputable employers who require temporary staffing solutions. Today, the company is pleased to announce it will be extending its reach to Hamilton/Niagara and Southwestern Ontario. The new regions will be managed by Kelly Matthews (Hamilton/Niagara) and Ashley Shadforth (Southwestern Ontario). Both Kelly and Ashley have experience in hotel and resort management and hospitality.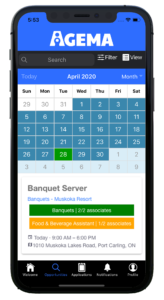 Speaking about the expansion, Michael Agema, CEO of AGEMA Work, had this to say, "We believe through this strategic growth, AGEMA Work will be better positioned to continue being an agile platform where job owners and seekers can connect with each other. For close to a decade, we have provided a staff fulfillment platform for talented associates and employers in the Canadian services industry, and with this expansion, we can help further improve labour shortages."
AGEMA Work's achievements are just one piece of Canada's ever-evolving hospitality and services industry. What was once a thriving industry has caused several businesses to adjust to the new normal and improve operational agility and financial resilience. This company is on track to maintain steady growth for years to come due largely to the extensive capabilities it has crafted specifically for Ontario employers, now extending to Hamilton/Niagara and Southwestern Ontario.
"I look forward to working with local businesses and professionals to bridge the employment gaps within the community," explained Kelly Matthews, who will oversee Hamilton/Niagara. With the expansion into new regions, AGEMA Work will be able to support hospitality, health care, and labour businesses by filling employment gaps and providing skilled professionals to fill vacant shifts.
AGEMA Work hopes to be a go-to platform for individuals looking for temporary jobs to supplement their income and businesses looking for part-time workers to help fill vacant shifts. "It's a privilege to be a part of this collaborative effort to disrupt employment in the hospitality industry, and we're doing it in the best way possible", says Ashley Shadforth, Regional Manager of Southwestern Ontario.
The platform offers a streamlined process for employers to list job openings and for candidates to apply to various job opportunities. Its features include: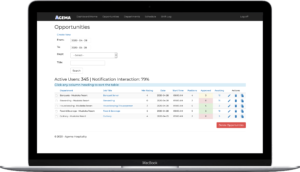 AGEMA Employer Dashboard: Through AGEMA Work's Employer Dashboard, organizations seeking additional employees can create a business profile to begin posting their jobs and hire temporary staff. The portal also offers administrative functions, such as timesheet tracking and associate ratings.
AGEMA Work Mobile App: Through the AGEMA Work mobile app, job seekers can upload their experience, references, and more onto their profile and quickly match with temporary positions located in their area. AGEMA Work also offers rideshare opportunities, online training, schedule flexibility, etc.
About AGEMA Work AGEMA Work is a leading hospitality and services SaaS company that connects talented professionals with reputable employers who require temporary staffing solutions. Since 2015 AGEMA Work has filled over 22,000 shifts with over 1,000 associates in Central Ontario. Employers can utilize AGEMA Work's Employer Dashboard to find candidates, craft timesheets, and more; job seekers, meanwhile, can use the AGEMA app to create their employee profile, discover local job openings, and more. The AGEMA Work mobile app is currently available for download on the App Store and Google Play.
For more information, please visit www.agema.work or email info@agema.work.
###
Name: Ashley Shadforth
Email: southwest@agema.work
Region: Southwestern, ON
Website: agema.work
Name: Michael Agema
Email: info@agema.work
Region: Central, ON
Website: agema.work
Media Contact
Name: Shanise Ling
Email: info@digitalingmendia.com
Website: digitalingmedia.com